---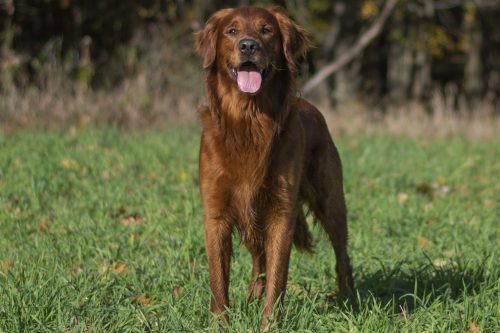 Arrowkay Reed Remington CDX JH BCAT CGCA CGCU TKN CCA
Sire: Sir Riley Winchester II
Dam: Ridgeway Lady Kimber
Whelped: 11/08/2015
Hips: GR-120893G24M-VPI
Elbows: GR-EL40579M24-VPI
Eyes: GR-EYE14669/71M-VPI
Heart: GR-ACA1030/18M-VPI
Links to health certs and pedigree:
https://www.k9data.com/pedigree.asp?ID=899120
https://www.ofa.org/advanced-search?f=sr&appnum=1879905
Call Name:
"REED"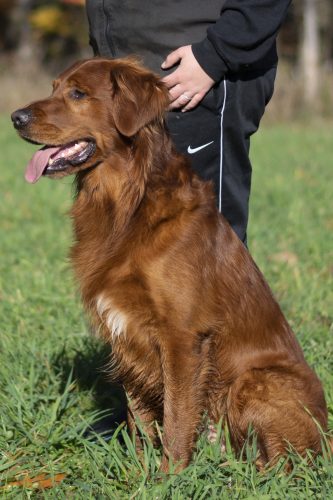 We can not say enough positive things about this boy, he is the definition of "good dog". From being the best companion, to a competitive athlete, Reed excels at everything he does.





Reed stands exactly 24 ⅜'' tall from the floor to his withers and averages about 72 lbs. He has a beautiful, smooth coat that is easy to groom with  flashy feathers. His coat color is a dark gold, so deep that some consider him to be red.





Reed has always had a good attitude and mellow personality even as a pup, but that has not stopped him from having drive and perseverance on the field, in the ring or with simple puppy tricks. He is always eager to learn because he is eager to please. 

Reed has earned many titles in his career. 
He earned his Canine Good Citizen title as a pup, along with his Junior Hunter and Companion Dog title before he was 24 months of age. He then went on to add his BCAT and Trick Dog Novice title. 
Reed earned his CCA conformation Certificate title through the Golden Retriever Club of America at The GRCA Specialty fall of 2022. His most recent accomplishments are his Companion Dog Excellent obedience title as well as upgrading his Canine Good Citizen title to Advanced and Urban. 
We anticipate for him to earn his UD, SH, and WC/X titles in the upcoming season. He will also be running HRC hunt tests in the 2024 season. He will continue to compete towards his OTCH.

Reed is very intelligent and catches on quickly, making him fun to work and train with. He has never met a stranger and will welcome himself to any bed or any couch. We have a house full of dogs, but Reed is truly the heart of our home.






Reed is standing at stud to approved bitches for natural breeding only.
Please contact us for more information regarding stud service.