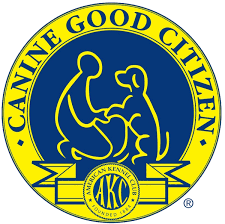 The AKC Canine Good Citizen™ (CGC) program provides a perfect framework for training your dog to become a polite member of society.
The CGC program is the perfect way to not only get started in obedience, but help your pup learn his or her manners and be an enjoyable part of your family. You can find more information on the CGC program here.
If you plan on taking your puppy to basic obedience training, be sure to ask your trainer if they are a CGC evaluator, as a lot of them are!
We LOVE when you and your dogs succeed and would like to see more involvement in dog sports. The CGC is the a great way to get started in your obedience journey as well as earning your dog's first title!
Once you complete and pass your CGC test, send us a photo of your Rivereed pup with his or her certificate and or ribbon so we can brag about you on our Facebook page and website. We will then reimburse you for your title processing fee!
(Applies to only Rivereed Golden Retriever puppies, at any age. from any litter. Good for CGC, CGCA, CGCU, Virtual Home Manners, and all Trick Dog.)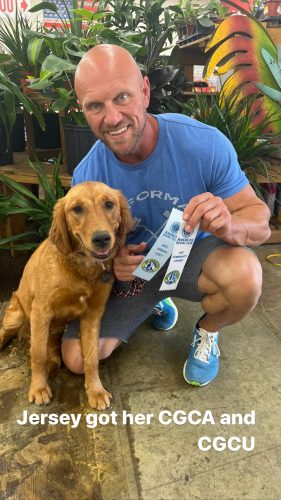 S.T.A.R Puppy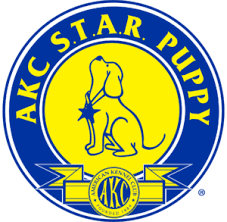 AKC S.T.A.R. Puppy is an exciting program designed to get dog owners and their puppies off to a good start. AKC S.T.A.R. Puppy is an excellent first in-person training class for puppies. AKC S.T.A.R. Puppy provides a good lead-in to earning the Canine Good Citizen title.
For more information on S.T.A.R Puppy program click here.